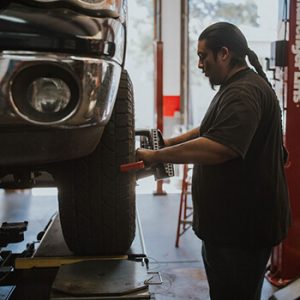 There are plenty of complex systems in even the most basic car, but none is as important as the braking system. The various components of the braking system must all work together to bring your vehicle to a safe and stable stop, and the breakdown or a single one of those parts could put your safety and the safety of your passengers at risk. When you need the best brake service Flagstaff has to offer, look no further than University Auto Repair.
At University Auto Center, we understand the complexities of the braking system, and we can help you stay safer on the road. Our extensive range of brake-related services can help you detect looming problems, so you can fix them before something goes wrong. If there is already an issue, our automotive braking experts can order the parts you need, provide quality installation and get you back on the road safely.
Brake Repair Flagstaff, AZ
Modern braking systems are designed to send signals when a part needs attention, but not all drivers pay attention to those signs. It is important to know your normal brake noises and pay close attention each time you get behind the wheel.
If you hear a grinding sound or unusual noise coming from the wheels, the brake lining on your vehicle may need to be changed. The brake lining performs a critical function, and it tends to degrade over time.
How You Drive Your Car
How you drive your car matters a lot when it comes to your brakes. The degradation of the brake lining and other parts can happen faster if you do a lot of stop-and-go driving, so pay attention to the way you drive and schedule your brake services accordingly.
If you think your brake lining may be nearing the end of its useful life, the expert technicians at University Auto Center can examine it and give you their recommendations. If the brake lining does need to be changed, our high-quality installation will give you extra confidence behind the wheel.
Test Your Stopping Power
You do not want to wait until there is an emergency to test your stopping power. If your braking system needs attention, the time to find out about it is now.
Doing an emergency braking test on a deserted road or abandoned parking lot is a good safety check for your vehicle and a way to gain peace of mind. Get your vehicle up to speed, then apply the brakes firmly. If the braking system is in good shape, the vehicle should stop quickly, and it should not pull to one side. The stop should be straight, and you should feel confident as the vehicle decelerates.
Brake Service Near Me
If the results of your braking test are satisfactory, you can drive off with confidence. If not, you should drive to University Auto Center, where our brake system experts can provide the repairs you need. In one visit you will see what makes us the best brake service in Flagstaff.
map
1864 S Woodlands Village Blvd. Flagstaff, Arizona 86001
Mon – Fri | 7:30 AM – 5:30 PM